18. Dezember 2020
New Partnership with RISE
We are excited to announce a new partnership with RISE, a programme launched by Schmidt Futures, alongside the Rhodes Trust.
The UWC-Rise partnership will feature the launch of a foundational education programme at a refugee camp in Kenya as well as 5 full scholarships for young people with a refugee background to study at one of the 18 UWC schools across the globe. Since the foundation of the Robert Bosch College, we have reserved at least two places for students with a refugee background and provide full scholarships along with these. For the intake of students in August 2021 one of these scholarships will be provided by the RISE Foundation, which is dedicated to finding extraordinary young people to provide them with the opportunity and support they need to be able to make use of their talents to serve others.
Simultaneously, through their global talent program and the HelloWorld App, Rise will provide opportunity and support to young people aged 15-17 from any country, with any background, who are dedicated to building a better world.
For more on the RISE initiative please see: www.risefortheworld.org
Young refugees now living in Germany can apply directly to UWC Robert Bosch College, as an application in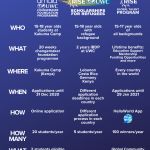 their home countries is usually not possible. The deadline for the first round of application will be February 15, 2021.
If you would like to apply and in case of questions and concerns, send an email with your Application Form, letter of recommendation (English or German), as well as an explanation of your current residency situation to our Career Counselor and Admissions Officer Hubertus Zander (admissions@uwcrobertboschcollege.de)
Make sure to check that the following Application Requirements apply to you before proceeding further:
o Applicants must be at least 16 years old by September 1, 2021.
o Applicants should not be older than 18 by September 1, 2021
o Applicants should not yet have a high school diploma or IB equivalent (university admission)
o Applicants must show interest in the UWC goals, values and mission
o Applicants must have the basic academic knowledge and ability to successfully complete the IB
– After reviewing the written applications, selected candidates will be invited for an interview (online)
At a time when #education opportunities for refugees have been hit hard during the COVID-19 pandemic, #UWC continues to embrace its mission of making education a force to unite people, nations and cultures for peace and a sustainable future.