15. March 2020
Engagement beyond UWC: GoMakeADifference winners 2020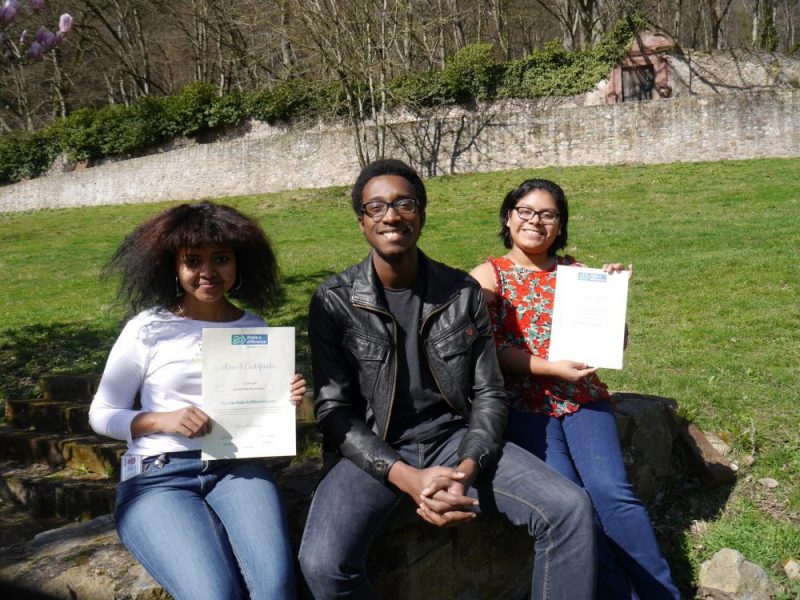 Our happy grant recipients Bezawit, Gil and Leini.
We are happy to introduce you to our 2020 GoMakeADifference award winners and their projects. GoMakeADifference is an initiative providing UWC students with grants to give them the opportunity to make a difference and put into practice the ideals of UWC. The initiative was founded in 2001 by Colin Habgood and Jill Longson (AC81). Since 2017, Wesley Chiu additionally supports the grant scheme. To know more click here.
Student Initiative: Living the sustainable life!
Back home in Peru, Leini always thought living the sustainable life is only something rich people can do. But her life and studies at RBC taught her differently. Now she wants to take action and wants to educate fellow citizens from her home country on what she has learned while a student at UWC Robert Bosch College. "I don't just want to teach, I want to implement change", says Leini, one of the three RBC students who has won the GoMakeADifference Award 2020.
In July and August 2020, Leini plans to visit five regions in Peru with her project partner and sister Carmen. The goal: to meet with different groups of people in every region, some already involved in a sustainable lifestyle, some without much knowledge. In every region they will analyze issues concerning sustainability and regard them every day with a different focus. These are elements Leini experienced and learned at RBC, e.g during the Special Focus Day.
However, she wishes not to just talk about these issues but start looking for possible solutions and write them down. In the end, there will be a compilation of all the findings and proposals that the groups developed during the gatherings. "We want to present the work to our minister of education, so that the findings and the work gets put in the national curriculum." By doing so, Leini hopes to call attention to the problems and implement in the education curriculum not only facts, but also actual things and actions that can improve one's life and the life of others and protect our planet.
With the help of social media, she plans to continue the movement and share updates with people of the project, involving the community to spread the message. The community – participants in every region and her close friends – help her to organize the gatherings.
Leini is tired of talking about change, it does not make her feel that it's close to her – the GoMakeADifference Grant provides resources to finally do something and be the change.
"How can I be a change maker?"
We'd like to introduce our student Gil from Haiti – one of this year's winners and grant recipients of the GoMakeADifference Award. Together with his friends, students from UWC RCN and Mostar, Gil founded the Hector Foundation Summer program, a two-week residential summer program that aims to increase Haitian high school students' chances of getting admitted to college by deepening their knowledge in important disciplines almost unexplored in the Haitian syllabus.
Gil himself attended a summer school in the U.S. a few years back. Within is program, he was confronted with topics such as gender equality, identity and race in ways unknown to him so far. The summer school and the experience of learning about and discussing topics with a diverse group of people were eye-opening to him. Now he and his friends want to take action in their own hands and enable young students from their home country Haiti to make the same experience. The two-week residential program includes workshops on climate change, gender identity and race. "We want to show that we are all connected, that everything has an impact and that we should all care", says Gil. As part of the program, Hector Foundation wants to invite external speakers, especially successful Haitians, to motivate the young students and show them what they can reach one day. To provide them with information, even after the end of the summer school, the participants will be part of a mentorship program – a platform to get guidance e.g. for finding universities or support for applications.
The goal is to have this summer school annually, expand the number of participants, offer field trips, find donors and therefore be self-funding one day. For the start this year, the team is planning with 20 participants; their former high school has offered them the use of the facilities. At the moment, the team is looking for further funding, including via a Crowdfunding campaign.
"Winning the GoMakeADifference Awards is a big step, helping us lower the amount of each scholarship package for one student", says Gil. His ideal outcome for participants after completing the course? "That they ask themselves: How can I be a change maker?"
"We want to create a safe zone and enable women to speak up!"
"i2 am a girl" is a project started by UWCRBC student Bezawit and her friends from home, Addis Ababa, Ethiopia. Last week, the group received the good news of being winners of the GoMakeADifference Award 2020 and that they will receive a 1000§ grant for the implementation of their plan.
"i2 am a girl" wants to use creative writing to communicate with the society and enforce women`s voices. The topic that Bezawit and her friends have several personal experiences with and are passionate about is "gender-based violence". Be it at home in the family or on the streets, gender-based violence is very present. But often the space to talk about it and express one's feeling is missing. Through creative writing, another passion of Bezawit, she saw the opportunity to connect these two areas.
The project is about to kick off this summer and will start with a two-week workshop in Addis Ababa. During the workshop the participants, mostly high-school students, will learn to speak up and get the opportunity to express their words through creative writing. The written pieces then will be published though social media activism, on diverse platforms. In order to reach other social groups as well the plan is to publish a book with the collected work.
In addition to the book, the group leaders and the participants plan to visit several communities to inform about gender-based violence and talk to women, men, wives, husbands and young people.
Most importantly, Bezawit and her friends want to create a safe space, a place where people can come and think, talk or write. A place where they feel they can express their thoughts without any judgement and within a safe environment. What Bezawit wishes for the future of the project? "to create more safe zones. Because I have never heard of such a thing back home. So more safe zones throughout the year in different places would be a goal."