08. July 2019
Congratulations to the RBC 4th Generation!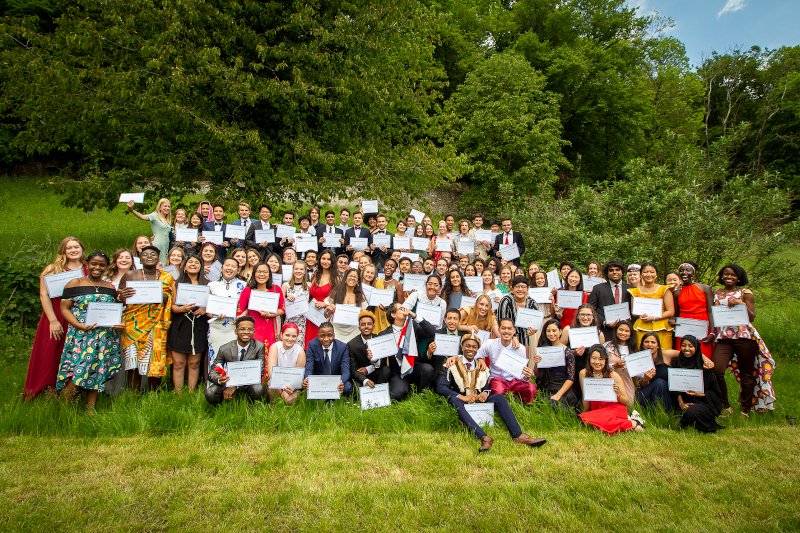 On Saturday, July 6th, the International Baccalaureate has published the results of all 2019 IB exam students worldwide. Today, our Rektor Laurence Nodder has shared the results of UWC RBC students with us – here is his summary:
"There are so many reasons why we can feel proud of what our 4th Generation achieved here in their two years, and I am deeply grateful for everyone who contributed to this UWC journey: the students, their families back home and friends, the teachers and wider staff, host families, National Committees and the fuller UWC Movement, the RBC Board and Advisory Board, and of course our Donors who made this financially possible.
RBC's IB Diploma results were released on Saturday. They are very strong, arguably the strongest in RBC's short history. The average (mean) total for RBC students who obtained the full Diploma is 35,58 (out of 45, with the minimum total of 24 points needed to obtain a full Diploma). Typically the world average is between 29 and 30 points. In summary: 24% of the students scored 40 points or higher, 24% scored between 35 and 39 points, 35,4% between 30 and 34 points, 12,5% between 24 and 29 points and 4,1% less than 24 points.
Some students have not (yet) obtained a full Diploma, for a variety of reasons. The scores these students achieved still represent amazing journeys. Several already have secured university places with scholarships, on the basis of their progress over the two years. We will continue to give distance support as needed including to those who wish to re-take examinations in November.
UWC Robert Bosch College would be failing as a school if our students were not able to be supported to learn well in an academic sense, and to achieve grades in line with their aptitude, effort and histories. These results demonstrate that all can have full confidence that students at RBC receive outstanding tuition and support from a team of remarkably dedicated teachers, supported also by a cohesive wider Staff team all of whom subscribe to the understanding that the purpose of RBC is the broad education of the students entrusted to us.
UWC Robert Bosch College would be failing as a UWC if it focused on the raw academic data as the primary measure of its success. Our students are not cherry-picked for their proven academic ability to achieve high scores in the IB Diploma. Several come with disrupted educations and from educational systems that reward rote learning and intellectual conformity. Many come with a rudimentary or weak grasp of English. Most importantly, our students contribute to and gain from a holistic two-year educational journey that involves building community, engaging in the wider world including through service, stretching their personal boundaries, broadening their understanding and their vision of their contribution and their sense of agency in working for a more peaceful, sustainable world. With the support of the Staff and many others, the 4th Generation has engaged and contributed wonderfully. Theirs has been a remarkable two years!
Thank you to all our Supporters including those whose financial support has made possible for this College to exist. Thank you especially to the Robert Bosch Stiftung whose financial support and guarantees makes it possible for us to offer every place at RBC without having first to concern ourselves about the financial status of the student's family.
Again, Congratulations to the RBC 4th Generation!"