10. October 2018
My Digital Revolution 3: The Impact of Artificial Intelligence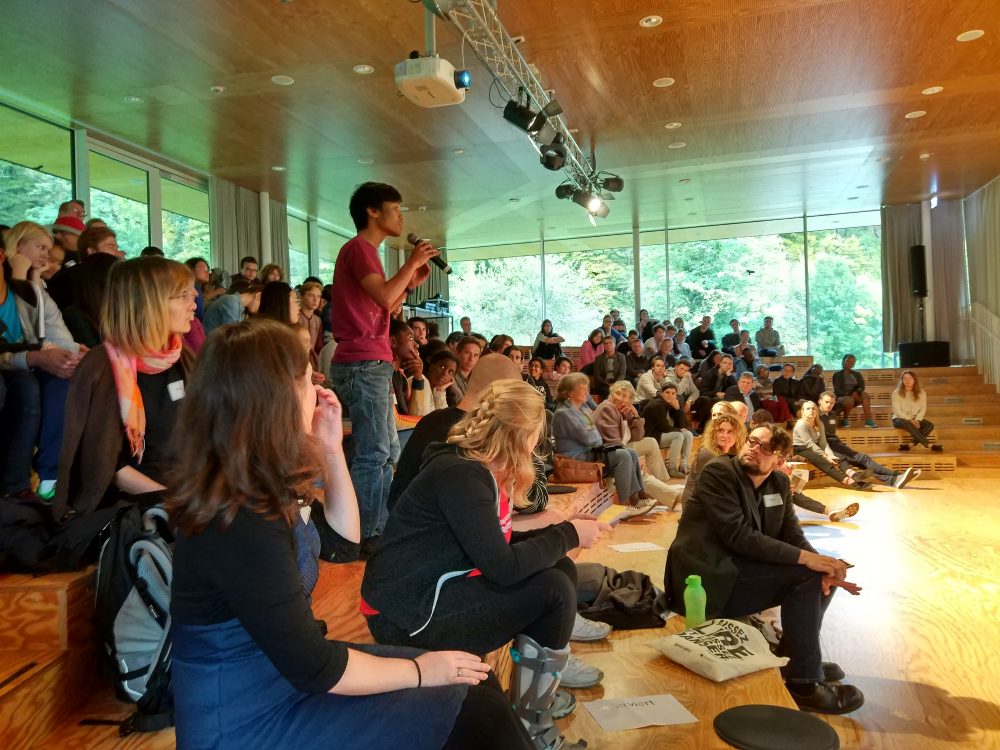 Can humanity be a match to independently thinking supercomputers? The examination of artificial intelligence is becoming a key issue in today's society, and at the same time an increasingly irritating topic. Some are enthusiastic about the rapid pace of innovation and about cyberspace futurism we know only from the boldest science fiction visions: American companies from Silicon Valley, but also researchers at elite universities, are increasingly turning this dream into reality. Others are afraid that millions of jobs will be lost to automation. They are scared of robot brains trumping our cognitive abilities and of highly intelligent armies comprised of deadly drones waging the future exterminatory wars of humanity, hyperpolarized by social media bots. What great opportunities will AI open up, and how far can or should we go in its development? With two panel events on artificial intelligence in society and business, the Carl Schurz Haus will continue the annual "My Digital Revolution" theme days on Thursday, October 18 from 4 p.m. onwards at UWC Robert Bosch College together with its partners and a selection of renowned speakers.
Registration: bwcon-Portal or programm@carl-schurz-haus.de. Free entry.
A joint event of the German-American Institutes of Freiburg, Tübingen and Heidelberg, the German-American Centre/James-F.-Byrnes-Institut Stuttgart with Baden-Württemberg: Connected e.V., Freiburg.digital, and UWC Robert Bosch College. Supported by the Ministry of Culture, Youth and Sports of Baden-Württemberg, the US Embassy Berlin, Interreg Alpine Space BIFOCAlps, Baden IT, and Südvers.
Both panels will bring together important experts such as the National Technology Officer of Microsoft Germany, Thomas Langkabel. But there will also be discussions with guests and students of UWC. Between the two panels, there will be time for coffee, and during the reception following the event, all visitors will have the opportunity to exchange ideas and network. The focus will be on consolidating local debates on the potential and the risks of digitisation.
Overview of the panelists:
• Thomas Langkabel, National Technology Officer of Microsoft Germany, Cologne
• Valentin Jeutner, Associate Senior Lecturer at Lund University, legal expert for AI, Lund (Sweden)
• Prof. Dr. Wolfram Burgard, Professor of Computer Science at Freiburg University, laboratory manager of the Autonomous Intelligent Systems research program, Freiburg
• Tilman Dette, Founder and CEO of QUnatCO (Data Science, Engineering & Economic), Boston (USA)
• Graduate engineers Gerlinde Peter, Technological and strategical consultant for Microsoft, NETGO consultant
Programme of the theme day:
• 4pm: Greeting and keynote speech: Artificial Intelligence – What's it got to do with me?
(Thomas Langkabel, National Technology Officer for Microsoft Germany)
• 4.30pm: Panel 1: Can you Feel the Data? Social Implications of Artificial Intelligence
• 5.15pm: Coffee Break
• 5.45pm: Panel 2: Big Bots in Business – Business implications of Artificial Intelligence
• 7pm: Reception with drinks and fingerfood served by Dreisamwerke
The theme day's English moderator is Léa Steinacker, Chief Innovation Officer for WirtschaftsWoche, a leading German business news magazine.
Date: Thursday, October 18th, 2018
Time: 4pm onwards
Location: UWC Robert Bosch College, Kartäuserstraße 119
Registration: bwcon-Portal or programm@carl-schurz-haus.de
Language: English
Entry: Free of charge
Additional information: +49 761 / 55 65 27 0, www.carl-schurz-haus.de or www.facebook.com/carlschurzhaus