29. June 2022
Charity Concert: Beethoven's 9th symphony at Konzerthaus Freiburg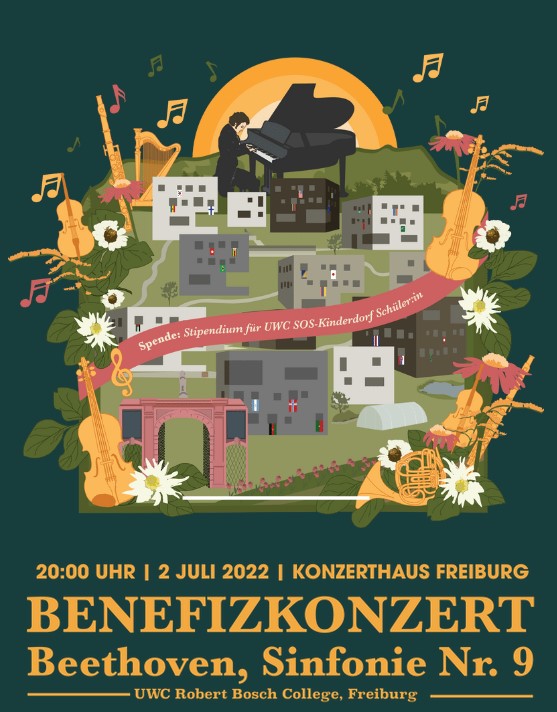 We're pleased to invite you to our charity concert at Konzerthaus Freiburg on July 2, 2022 at 8 pm CET. In order to help us create another scholarship at our College for a student from a SOS Children's Village, the Freiburger Bachchor will share a stage with Bosch's symphony orchestra and choir, presenting Beethoven's 9th symphony. Patron for the partly student-led event is Dr. Christof Bosch, who initially founded UWC Robert Bosch College in 2014, on the occasion of his grandfather's 150th birthday. For eight years now, UWC Robert Bosch College has enabled young scholars from all over the world to live together peacefully for two years and get an international education — join us on July 2nd to create an additional scholarship!
Charity Concert | July 2, 2022, 8 pm
Rolf Böhme Saal, Konzerthaus Freiburg
Beethoven's 9th symphony
Directed by: Hannes Reich
Freiburger Bachchor | Bosch Sinfonieorchester | Bosch Chor
Elisabeth Jehle, Sopran
Julia Werner, Alt
Philipp Nicklaus, Tenor
Christian Henneberg, Bass
All revenues collected will directly flow into a scholarship for a SOS Children's Village Student joining UWC Robert Bosch College for two years. DONATE HERE.