22. February 2018
"He will make it": Student portayed by 'DIE ZEIT'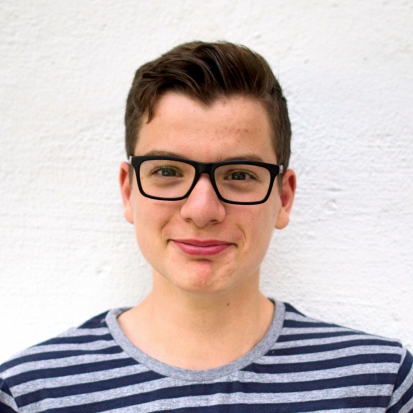 translated from the German original, published in DIE ZEIT 08/2018
As a child, Jeremias couldn't stand the conditions of his home, so he went to the youth welfare office. Today, he dreams of studying at Harvard.
Jeremias was eleven years old at the time of his first betrayal. His mother had locked him and his younger brother into the apartment. The two children did not know where she had gone and when or if she would return. They called for help, shouting down from the window. Their father, who lived in the flat underneath theirs, heard their voices and set them free.
For Jeremias, this was the moment fear took over. Fear never to escape poverty or neglect. To get stuck between French fries and coke bottles. To sink until lost from sight. Back then, statistics about child poverty meant nothing to him and he couldn't know the risks of growing up in a socially disadvantaged family in Germany, a country where the correlation between a child's social background and their success at school is way above average. But all he needed to do was to take a look around and notice how his life differed from that of his peers. No own bed or books that were read to him, no pencils that didn't break, no parents who went to the cinema or on holiday with him. Today, Jeremias wonders where he found the courage to do what he did next. Skipping school, taking some money his mother had left in the flat, buying himself sweets and wandering the streets of Kaiserslautern until reaching this small, pink building – the youth welfare office. His parents were known figures around here, his brother had passed through a number of their institutions. For him, this was the first visit. His legs shaking and with sticky fingers, he knocked at a door and heard himself tell the man who opened: "I want to get away from home, away from my parents." He doesn't really remember the event. "Most likely, I just burst into tears." The man at the door took care of him. His name was Mr. Köhr.
So that Tuesday five and a half years ago marked Jeremias' first betrayal. He betrayed his family, his social background, his status. That's what his parents accuse him of today. "That day was both the high and low point of my life", says the 16-year old, sitting in the common room of House 4 of UWC Robert Bosch College, a bag of cookies in his hand. Outside, Freiburg and the Black Forest, and on the little pathway in front of his house, his classmates. Together with 200 students of 93 different nationalities he now attends RBC to prepare for the International Baccalaureate Diploma Programme. United World Colleges (UWCs) exist in 17 countries. These schools have set it as their goal to connect youth from all around the world to surpass their differences, disagreements and divisions and create a vision for the world of tomorrow, a vision of a peaceful world. Quite a daunting task for the 16 to 19-year olds. Not a single one of them is here because their wealthy parents wanted them to. At UWC, only suitability and talent determine if a student will be accepted. The question whether their parents are able to pay the school fee is only asked after being accepted. For Jeremias, the answer to this question was obvious. His parents didn't know anything about his application and neither did the social worker of the SOS Youth Centre where Jeremias lived since he left. She only got to know about it after he had sent his application letter.
A school at which social background doesn't matter tuppence – for Jeremias a dream come true. He got a spot and a full scholarship. "When he found his acceptance letter, he burst into tears of joy," social worker Anja Klein tells us. He of all people, he who was once lost and emotionally neglected, who didn't want to be hugged, because he was used to deal with things on his own – finally he cried. As Jeremias tells us today, he was broken of crying at a young age. "Crying signalled weakness and weakness meant defeat. That's how I grew up." It was always about survival, security was an abstract concept. Even once he had realised he couldn't stay home with his father's depression and his mother's aggressiveness and compulsive gambling, he was always afraid it would get worse. "For me, a Youth Centre meant alcohol, drugs and screaming social workers, absolutely dreadful." Thanks to meeting Marko Becker, a teacher in Kaiserslautern and Anja Klein, he now has dreams for his future. And all of that despite a background and an environment that always wanted to see him fail.
Studying at Harvard University? Jeremias is completely serious when he talks about this, it has been his dream since age 6. He was laughed at because of it. But now he is really taking a go at it.
His past has scarred him less than the feeling that people often did not believe in him. After fourth grade, he didn't get a recommendation to go on to a German gymnasium, despite having better grades than most of his classmates. "Sure, they lived an orderly family life, they had books at home and parents that didn't live off welfare." He says, still angry. "I was always pigeonholed as the poor boy without family support." For someone like Jeremias who grew up without role models, whose parents have never completed a high school education and have never worked, someone who had to teach himself everything he didn't understand in class because his parents never cared to explain it to him – for him it became a matter of survival to be surrounded by people who believed in him. Anja Klein often says that thanks to Jeremias, she has understood that everything is truly possible if one chooses to believe in it. But even she admits that she sometimes has the urge to protect him from his dreams and illusions. On the one hand, she was quite angry when she heard Jeremias had applied to UWC. On the other, she thought to herself: "Just let him do his thing, he won't get accepted anyways.
Jeremias has a very hard time explaining to his parents how much his life has changed since arriving at UWC. For example, how he only speaks English with his peers and teachers from all over the world. When he tells his father about the commentary in an Economist article or the essay on health economy he has to write, his father simply says: "Boy, somehow you'll manage!" and then proceeds to tell him what he had to put up with when visiting the welfare offices. His parents have tried getting him back. They need the monthly child benefit and they need the son who goes to the bakery for them, who takes care of problems with the bank, who watches the little brother in the mornings.
Jeremias never went back, but the turmoil within him still persists. "My mother doesn't recognise me as her son anymore and my father gets offended because I speak differently than he does and because I dress differently and chose to follow a healthy diet." When he left home, he owned one pair of shoes he wore every day. Today, his trousers perfectly match his black shirt and beige sweater; he even has the Chelsea boots to go with them. "They cost 180 Euros," he tells us whilst looking at his feet as if they belonged to someone else. He who came from far, far down now knows what it's like to be at the top. He spent his Christmas holidays at an entrepreneur family in Frankfurt. They've been mentoring him since his arrival at UWC and it was them who bought the new pair of shoes for him. "I had a nice time." He says. But this also puts him to the test. He thinks of this when sharing a 90-euro bottle of wine with them and dining in one of Frankfurt's finest restaurants, knowing that at this precise moment, his parents are eating pasta with minced beef for the third day in a row.
Jeremias is not the type to just put up with this. He says what he thinks. Why do we have to spend this much money on alcohol, why do we need to eat strawberries in winter, why do we want to rent a movie for 3 Euros? "In these circles, 3 euros is nothing." When he thinks back to "Kotten", the neighbourhood he grew up in, he remembers these 3 euros to be a lot of money. He's tired of always pointing out how unjust this all is. He joined the German Social Democratic Party when he was 14. He is heavily involved in UNICEF campaigns regarding children's rights. He still believes that things can change for the better here in Germany. "First step: Stop Pigeonholing children! Just stop it! Second step: Grant more money to local communities so that they can support families and children in need.  Because right now, the question whether a child is able to take piano lessons is determined by the size of their parent's wallet and how much these lessons are worth to the state."
A question that has risen in his mind over Christmas, amidst all these people spoilt by success is what would happen if he really made it, if he became part of that society. Will he then have to deny his background completely? Is that what the ultimate betrayal of family looks like?
This torments him when he sits on the old wall next to the College, which dates back to when the building was still a monastery. When he sits there the wall seems like a ridge, the ridge he is still wandering, stuck between abyss and safety, between protection and exclusion.
Translated by Jaques Cornec (RBC 2017-19)